Garden Implementation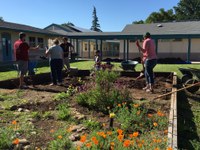 Food based gardening is a beneficial activity that leads to the economical production and consumption of healthy and fresh foods.SNAP-Ed providers can play an instrumental roles in community food gardening for the low-income population. For more information about community gardening please click here
Some ways to implement gardening into your program activities:
Establishing community food gardens in low-income areas, such as public housing sites, eligible schools, and qualifying community sites;
Assisting with starting a school garden and starting a farm-to-school program;
Staff working with Tribal community volunteers to plant a kitchen garden at an FDPIR program site

UC CalFresh SNAP-Ed Allowable Gardening Chart
The UC CalFresh SNAP-Ed Allowable Gardening Chart list is provided as a guide and is not intended as an exhaustive list. UC CalFresh programs should consider supplies that are available in your county; working with local partners and vendors; and consider how to leverage resources of Non-SNAP-Ed funds or partners. for more information of allowable and unallowable gardening please see the most current SNAP-Ed Guidance for the fiscal year.
Gardening Curriculum
Ag in the Classroom
TWIGS
Nutrition to Grow On
Discovering Healthy Choices
Resource from the SNAP-Ed Connection
Other Resources