Garden Implementation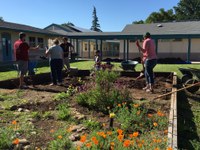 Food based gardening is a beneficial activity that leads to the economical production and consumption of healthy and fresh foods.SNAP-Ed providers can play an instrumental roles in community food gardening for the low-income population. For more information about community gardening please click here
Some ways to implement gardening into your program activities:
Establishing community food gardens in low-income areas, such as public housing sites, eligible schools, and qualifying community sites;
Assisting with starting a school garden and starting a farm-to-school program;
Staff working with Tribal community volunteers to plant a kitchen garden at an FDPIR program site

UC CalFresh Garden Purchases
Gardening Curriculum

Ag in the Classroom
TWIGS
Nutrition to Grow On
Discovering Healthy Choices
Evaluation Resources
School Garden Assessment Tool Webinar
The School Garden Assessment Tool webinar was held on September 19, 2019, presented by Liz Egelski, Barbara MkNelly, and MaryAnn Mills. It provides an overview of the new CalFresh Healthy Living, University of California's School Garden Assessment Tool available for use in FFY 2020. Topics include: background of the Tool's development; why, when, and how to use this Tool; a review of the Tool and sample entry; and expectations for using this Tool, along with PEARS reporting guidance.

Please review this webinar before using the School Garden Assessment Tool.
School Garden Assessment Tool
The School Garden Assessment Tool should be used identify and track areas of improvement in school garden programming. This Tool should be used by Programs who are currently implementing school garden projects and are ready to assess the current state of the garden in order to expand and/or improve garden-related programming, as well as to track efforts through reassessment.

FFY20 is the first year of implementation of this Tool. As such, we encourage Programs using this Tool in FFY20 to provide feedback via a Feedback Form, linked below. This document provides guidance for commenting on best practices, design and ease of use, content, and whether the Tool meets your programmatic needs. The UC State Office will use this information in consideration of improvements to the Tool.

If you have any questions about the Tool or Feedback Form, please contact Elizabeth Egelski (eegelski@ucdavis.edu) or Barbara MkNelly (bmknelly@ucdavis.edu).
The "…FOR PRINTING" version of the Tool is provided for your convenience as a print-friendly document that can be taken out into the field. It is not mandatory to use. All of your final data must be entered into the "…FOR DATA ENTRY" document. Once your assessment is complete, the last tab of the "FOR DATA ENTRY" document - "Results and Planning" - should be submitted to the State Office via Box.
Please submit completed Result and Planning Worksheets in this Box folder.
Resources from the SNAP-Ed Connection
Other Resources