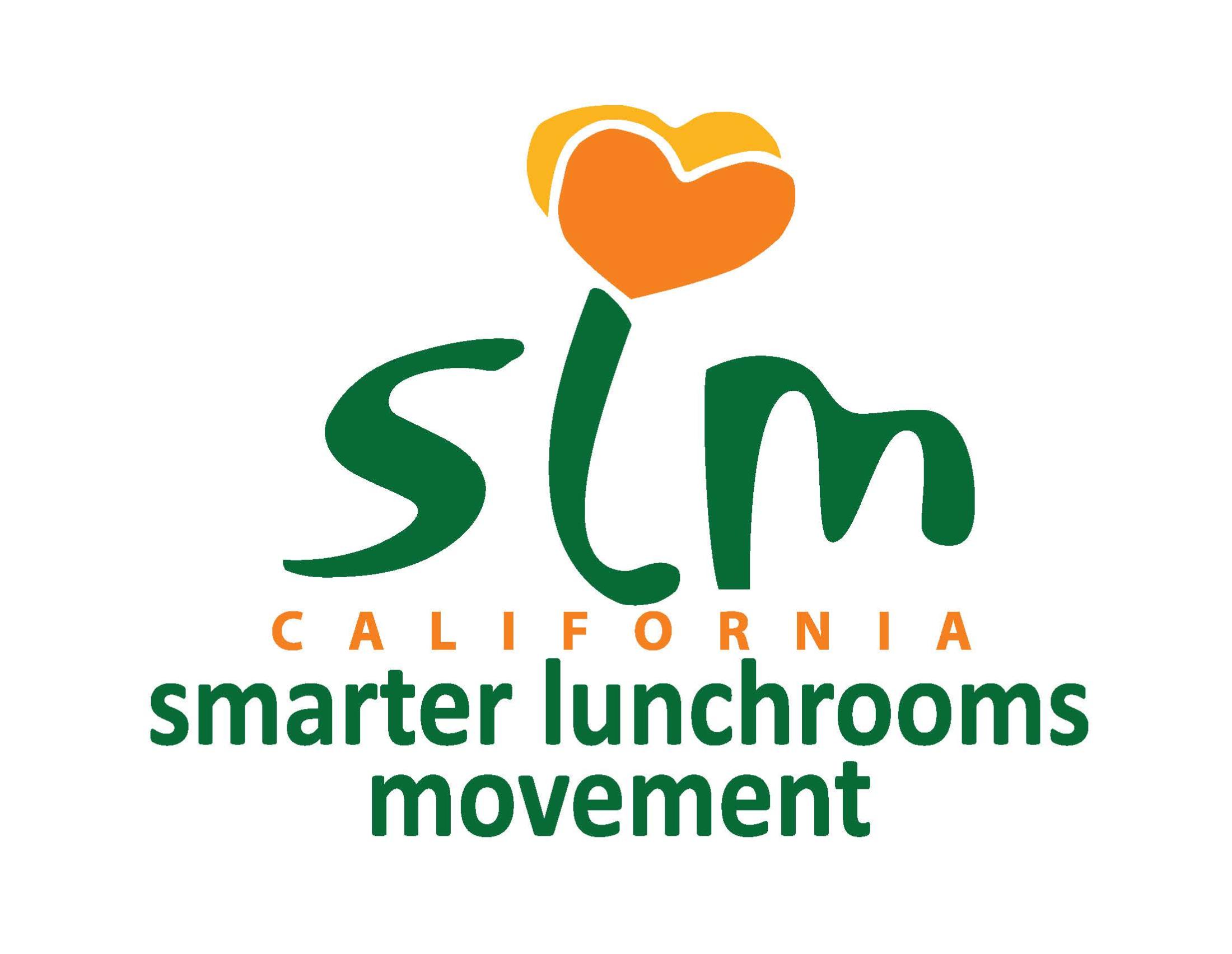 A smarter lunchroom is one that influences students toward choosing healthier, more nutritious foods. Smarter lunchrooms give students an opportunity to select and consume a balanced diet while providing them with a spectrum of choices. The SLM applies research-based principles that use low or no-cost solutions with a focus on the cafeteria environment and the promotion of healthful eating behaviors.
The mission of the Smarter Lunchrooms Movement of California (SLM of CA) is to provide training and technical advising for school food service in California on the Smarter Lunchrooms Movement (SLM) theory and practices created by the Cornell Center for Behavioral Economics in Child Nutrition Program funded by the USDA.
Smarter Lunchrooms Movement Resources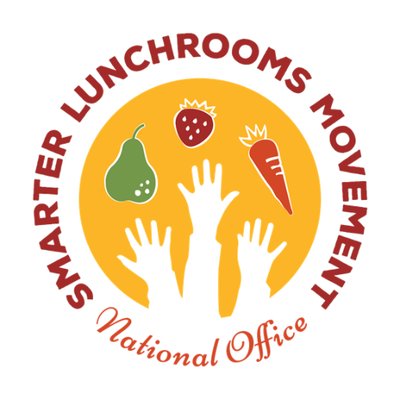 The Smarter Lunchrooms Scorecard contains 60 simple, no-cost or low-cost strategies that lunchrooms can use to increase participation, improve consumption of healthy food, and reduce food waste.  The strategies are based on research from the Cornell Center for Behavioral Economics in Child Nutrition Programs and partners and other behavioral science research.
This handbook provides schools with the knowledge, motivation, and support needed to build a lunchroom environment that makes the healthy choice the easy choice for all students.
No Time to Train is a year of engaging scripted, customizable lessons for school food service staff, aligned with USDA Learning Objectives. These engaging, customizable workshops meet training requirement for school nutrition professionals. They include trainer resources (such as scripted lesson plans and planning advice) and teaching aids (slide presentation, worksheets, and role play scripts).
Online Course: Creating Smarter Lunchrooms
The course provides an introduction to behavioral economics and the Smarter Lunchrooms Movement. It includes interactive modules utilizing videos, activities, downloadable tools, and graded assessments. It also offers 2 Continuing Education Units (CEUs) from the School Nutrition Association.This new training resource can be used in place of the in-person SLM Introductory Training.
Step-by-step instructions for accessing and completing the course
Please note that the online course includes information on entering scorecard data into the online tracker. The SLM of CA is currently not using this tool, please continue entering your scorecard data into the SLM of CA Online Scorecard Reporting Tool.
SLM of CA Resources
SLM of CA Technical Advising Professionals (TAP) Resources
SLM of CA Training Pathway for TAP Certification 

CalFresh Healthy Living, UC SLM Resources
The resources in this folder include videos, handouts, and social media posts to promote produce items from the school meal menu. The resources were created by CHFL, UCCE county programs!
CFHL, UC SNAP-Ed Funding Smarter Lunchrooms Movement Expenditure
The CalFresh Healthy Living, UC SNAP-Ed Funded Smarter Lunchrooms Movement Expenditures is provided as a guide to assist counties in determining which SLM supplies are allowable or not allowable. It is not intended to be an exhaustive list. CalFresh Healthy Living, UC programs should consider supplies that are available in your county; working with local partners and vendors; and consider how to leverage resources of Non-SNAP-Ed funds or partners. 
Smarter Mealtimes Resources
Smarter Mealtimes is an adaptation of the Smarter Lunchrooms Movement for child care environments. The Smarter Lunchrooms principles and concepts that result in increased selection and consumption of healthy food are also simple and effective in child care settings.
Rethinking Farm to School Resources
Rethinking Farm to School, a project by the Center of Ecoliteracy, is designed to support UCCE staff in their efforts of implementing farm to school programs and expanding local food procurement initiatives in SNAP-Ed eligible schools. Farm to school programs promote sustainable school communities through food accessibility, school gardens, and nutrition education.
The Center for Ecoliteracy created marketing resources aimed at supporting local procurement in schools. CFHL, UC staff can use these editable resources to promote farm to school programs in lunchrooms.
The Nudge